Buffalo's historic role in surfactant therapy, and the man who led the way
Published in Buffalo Physician magazine, Spring1999.
By. S. A. Unger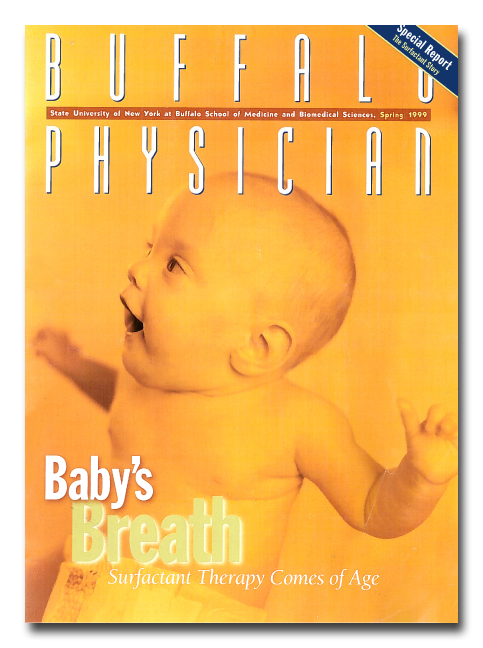 "It hurt me to see that when infants were born too early and had difficulty breathing, really nothing could be done about it. They were just left to die."
In one breath, these are the words spoken by Goran Enhorning, obstetrician, as he talks about his motive for beginning his torturous, but historic, quest to develop exogenous pulmonary surfactant 35 years ago. His hopes then, as they are today, were simple and straightforward: to alleviate the suffering and prevent the death of premature babies afflicted with respiratory distress syndrome (RDS), a condition that, previous to "the surfactant era," killed 70 percent of its victims.
In his next breath, Goran Enhorning, Swedish research physiologist and inventor, moves away from the realm of the heart and into the mind, where, with softly accented words, he struggles to translate into layman's language the scientific insights he has experienced throughout his controversial career, a career he is still fully engaged in at age 75.
Leaning forward in his chair in his office at the Children's Hospital of Buffalo, he explains that surfactant is a naturally occurring substance in the lungs that helps make breathing possible by decreasing surface tension at the airway-fluid interface in the alveoli. "Surface tension was described by LaPlace's Law – you know, P equals two times T over R, with P representing the pressure that must be generated to overcome surface tension, T, and R representing the radius of the alveolus. … "
In talking with Enhorning, it becomes clear how his affinity for both basic science and medicine enabled him to make crucial contributions that kept the field of surfactant research alive in years past, when leading experts worldwide dismissed its viability. It also becomes clear that his work contributed to making Buffalo, New York, a hub for surfactant research—a place where world-class scientists converge in freewheeling collaboration to help make real the dream Enhorning first envisioned many decades ago.
These scientists include Enhorning's long-time colleague and sometime rival Edmund "Ted" Egan II, MD, professor of pediatrics and physiology at the University at Buffalo School of Medicine and Biomedical Sciences. In the early 1980s, Egan and his collaborators—building on Enhorning's seminal work—spurred on a highly contentious international race to develop the first exogenous surfactant product. Today, despite the behind-the-scenes jostling that continues among these competitors, there are several surfactant products on the market and, as a result, the mortality rate for infants born with RDS has dropped to 5 percent.
This dramatic, innovative work has not ended in the clinic however. As the 1990s draw to a close, Buffalo is equally noted for the contributions its scientists are making to basic research in the area of surfactant therapy—contributions that are leading the field into the 21st century, where it promises to impact a wide range of respiratory disorders affecting adults, as well as neonates.
Bruce Holm, PhD, associate dean for research and graduate studies at the UB School of Medicine and Biomedical Sciences, is one of the preeminent scientists recruited to UB in the late 1980s by Enhorning and Egan. Like many others worldwide, he readily acknowledges the pioneering contributions made by Enhorning, whose fortitude against all odds is now as well honored as his science. "If it weren't for Goran Enhorning, we wouldn't have the low neonatal mortality rates we have today," states Holm, "and we wouldn't have been able to develop our understanding of the science behind pulmonary surfactant to the extent we have. And, clearly, there's a good deal for the Buffalo medical community to be proud of regarding it contributions to surfactant therapy and research.
"But the surfactant story isn't over yet," he adds. "Even though it has already resulted in what would have to be considered one of the more dramatic breakthroughs in the past 50 years in terms of what neonatologists have in their repertoire for prematurely born infants, everyone involved believes there's much more to come."
Discovering How the Lungs Work—or Don't
To get a sense of fortitude Enhorning, Egan and others needed to bring exogenous surfactant to where it is today—and appreciate the promise it holds for tomorrow—it's necessary to go back to 1929, when the "surfactant story" begins.
That year, a pulmonologist named Kurt von Neergaard, who was living in Switzerland at the time, first espoused the theory that in order for the lung to function, it needed an agent that would coat the inside of the airway, particularly the tiny air sacs called alveoli (of which the adult human lung has about three million). He surmised that this coating would prevent the alveoli from collapsing during expiration, when they become very small. Working from an understanding of the Law of LaPlace, he deduced correctly that this agent causes surface tension in the lung to change its value and that the agent is composed of a phospholipid or protein.
"He became so frustrated trying to get his work published, he gave up," explains Enhorning. Medical historians often cite von Neergaard's finding as a classic example of a "premature discovery," as nothing was done with his promising line of research until the early 1950s, when Richard Pattle in England and John Clements in the U.S. independently rediscovered the concept of an alveolar surface-active material that came to be known as "surfactant."
"John Clements was and probably still is the biggest name in surfactant research," explains Egan. Working at the University of California at San Francisco, Clements, in the 1950s, was shoring up his reputation as a giant in his field by focusing on the problem of surface tension in the lung and the role surfactant plays in alveolar stability. His research in those early years was primarily basic, which put his career in perfect sync with the pioneering phase the science of lung physiology was undergoing at that time.
"You have to understand that during that era—between 1940 and 1965—scientists were just beginning to gain a sophisticated understanding of how the lungs work and how we control breathing by mixing gas and air," says Egan. "And in the 1950s, these studies were being led by two or three great centers in the United States, one of which was at the University at Buffalo, where key contributions were being made by Hermann Rahn, Leon Farhi and many others in our Physiology Department."
A spin-off of the basic research going on at UB and elsewhere during this time was that scientists began to develop a more sophisticated understanding of lung diseases and their etiology, according to Egan. With the stage thus set, a giant leap in surfactant research took place in the late 1950s, when a pediatrician named Mary Ellen Avery was invited to complete a fellowship in the laboratory of Jere Mead, a Harvard University physiologist. "Avery and Mead were thinking about the premature babies who had a progressively more difficult time breathing and then died. Their lungs were totally collapsed and looked like livers, and they had the idea that maybe these babies were missing this lung surfactant," explains Egan.
Following through on this idea, Avery and Mead completed a complex project in which they studied the lung material of infants who died of RDS (then called hyaline membrane disease), compared with the lung material found in babies with normal respiratory systems who died of other causes. In a now-famous paper published in 1959, the researchers "showed that surface tension was higher in infants dying from RDS than it was if you got the lung material from infants dying from other causes," says Enhorning.
Based on their findings, Avery and Mead put forth the idea that babies who have RDS are surfactant deficient, in the same way somebody with diabetes is insulin deficient. "This idea really sparked enormous interest," Enhorning comments.
"This was very esoteric science," Egan emphasizes. "It wasn't anything the great majority of physicians around the country had any training in; they didn't understand it. There simply wasn't a good paradigm for it."
Soon after publication of the Avery and Mead paper, the scramble was on to concoct an exogenous surfactant material and get it into the lungs of babies born with RDS. Around the world, research groups moved into action, hoping to be the first to produce a lifesaving substance that would put a stop to a disease that killed approximately 10,000 babies each year in the U.S. alone.
At about this same time, in 1961, Goran Enhorning had just completed a PhD in physiology at Karolinska Institute's Medical School in Stockholm, Sweden, where in 1952 he had earned his medical degree. Upon graduation he was awarded a Fulbright scholarship to study at the University of Utah, where he began research into surfactant. Normally, Fulbright scholars are limited to a one-year stay, but an exception was made for Enhorning and his visit was extended for another year. During this second year, Forest Adams, a well-known surfactant researcher from the University of California at Los Angeles (UCLA), came to the University of Utah to lecture, at which time he was introduced to Enhorning. As a result of their meeting, Adams arranged for yet another year extension for Enhorning and made a place for him in his lab at UCLA.
In Adams's lab, Enhorning continued work he had begun in Utah on an ingenious apparatus he called a bubble surfactometer, which he readily admits took him more than 15 years to fully develop. In the decades that followed, however, the bubble surfactometer would greatly enhance scientists' ability to run physical tests on surfactant preparations in order to assess their surface tension-lowering properties prior to in vivo studies.
Adams's lab also provided the setting for Enhorning to work alongside another young scholar, Tetsuro Fujiwara of Japan, who, like Enhorning, would go on to devote his career to the elusive goal of developing a surfactant-replacement product.
One of the requirements of Fulbright scholars is that they return to their country of origin for a minimum of seven years upon completion of their studies abroad. As a result, in 1964 Enhorning left Los Angeles to return to Sweden, but that was not the last he and Fujiwara would see of one another.
The Rush to Find a Cure
During the years that Enhorning and Fujiwara were studying in the U.S., the race had intensified among scientists who hoped to be the first to determine the active components of lung surfactant and to discover a replacement substance.
Foremost among the scientists exploring this problem was Clements in San Francisco, who, in collaboration with M. H. Klaus, was studying the biochemistry of surfactant. Using the limited testing technology they had available to them at the time, they concluded that the surface tension-lowering component of the material resided in its phospholipid, most specifically a biologically rare molecule called dipalmitoylphosphatidylcholine, or DPPC.
Convinced that DPPC was the active surface-tension lowering substance in surfactant, the San Francisco group then decided to take a step that remains controversial to this day.
"They took this DPPC material, which they had only tested in physical systems, not biologic systems," says Egan. "It looked like surfactant. Best of all, it was easy to make, easy to work with, and they were really convinced they had the 'guts' of it, so their next thought was, 'Let's test it in babies.'" Additional motivation to push ahead with testing had come in 1964, when a Canadian group, which had rapidly followed up on Clements's findings, published a paper reporting that they had found some improvement in babies with RDS who had been treated with a DPPC mist.
In 1965, therefore, with their new DPPC hand, the Clements team boarded a plane for Singapore, where they had access to a large population of babies and could complete their studies quickly.
"They took aerosolized forms of DPPC and fogged it into the babies," recounts Holm. "And remember, these are the days before mechanical ventilation. The babies were in these plastic hoods, and they just put this mist of DPPC in the hood and that was the concept of ventilation. Looking back on it, most of the DPPC probably stuck on their hair and face. I'm sure almost none of it got in their lungs. If it had, it probably would have had some positive benefit. But they hadn't done any animal studies so, among other things, they didn't know how to deliver it correctly."
Upon returning, the group published a landmark 60-page paper in Pediatrics in 1967, concluding that exogenous surfactant was not efficacious for the treatment of infants with RDS.
"So here you have the biggest names in surfactant research saying that surfactant therapy doesn't work," says Egan. "And not only that, but concluding that surfactant deficiency was a result of RDS rather than the cause of it."
Once the paper was published, interest in surfactant replacement research for RDS, in large measure, came to a sudden halt. "Clements's conviction alone and his stature in the academic community were such that the publication of this paper turned the entire field of surfactant research in the wrong direction for more than 10 years," Egan explains. Pausing, he adds, ". . . with the exception of one kind of idiosyncratic, brilliant intellectual who lived in Sweden and was an obstetrician by training."
"This Has Been Done Before and Does Not Work"
Back in Sweden, with his bubble surfactometer in tow, Goran Enhorning was running some tests of his own. "DPPC was inexpensive, it was sterile, it didn't have any antigenic proteins, so it was appealing. If you could use DPPC, it would have been wonderful. But you couldn't. It was hopeless. I found that out with the bubble surfactometer," he recalls.
At this point, Enhorning turned to a pathologist named Bengt Robertson for help, and together the scientists experimented with various surfactant preparations, which they began early testing of on rabbit neonates. "What they found," Egan explains, "is that the rabbits lived longer and breathed better. But because the medical establishment was by now convinced that surfactant deficiency was not the cause of RDS, they had trouble getting their work published.
"I think people in the field ignored Goran's early work because he was producing evidence that was contrary to conventional wisdom, because he was up in Sweden and because he had very distinguished people openly pooh-poohing his work."
After years of having his work essentially blackballed by the scientific community, Enhorning finally met with temporary success in 1972. "The editor of Pediatrics who accepted the paper Robertson and I coauthored was an exception," recalls Enhorning, "and he invited me to follow up with an editorial on our work." Despite publication of this paper, however, Enhorning and Robertson again found their work ignored; between 1972 and 1976, few journals accepted their papers. "Papers we submitted were rejected with one line: 'This has been tried before and does not work,'" recalls Enhorning.
A year before publication of the paper in Pediatrics, Enhorning had moved to Canada to take a position at the University of Toronto. There, he continued collaborating with Robertson, who still lived in Sweden but made extended visits to Canada. "In 1973 and 1974,1 did a study with Robertson I consider very important," says Enhorning. "We deposited surfactant in the pharynx of premature rabbit neonates, who inhaled it with their first breath, and X rays showed how it opened up their lungs. We published this study in 1975, and it was at that point that we started thinking about seriously testing it in babies." Toward this goal—and with publishing no longer an insurmountable hurdle—Enhorning and Robertson submitted a steady stream of papers on animal studies they conducted throughout the latter half of the 1970s.
It was during this time, in 1977, that Enhorning first published a paper describing, in depth, his bubble surfactometer, which has since become a staple tool used by scientists studying surfactant.
Based on the work Enhorning and Robertson were doing in the 1970s, researchers began revisiting the idea of creating a synthetic surfactant material. Some were once again testing the DPPC substance that Clements had unsuccessfully experimented with in the mid-1960s.
For example, in 1976 Fujiwara was back at UCLA and was working with Adams in an attempt to duplicate the Enhorning and Robertson studies by depositing DPPC in the upper airways of sheep. Frustrated with their results, they concluded that surfactant therapy didn't work.
"During a trip to Los Angeles that year, Robertson visited Adams's lab and was told about the frustrating results of the experiments. He told them that what they needed to use was natural surfactant from adult animals, not a synthetic material like DPPC. So they changed their techniques and then could confirm our studies," explains Enhorning.
Shortly thereafter, Robertson returned to Sweden permanently and Enhorning began collaborating with Fred Possmayer, a biochemist who worked in London, Ontario, at the University of Western Ontario. Their goal was to develop a surfactant material that would be safe to test in babies. "One of the big problems we had was that the raw material—the natural surfactant—was very difficult to get," Enhorning recounts.
To overcome this problem, Enhorning paid a visit to a local slaughterhouse in Toronto. "I got really lucky because one of the investigators working in research at the slaughterhouse had just had a baby who developed RDS, so he arranged for me to get lung lavage from large calves."
The surfactant material that Possmayer made using raw material obtained at the slaughterhouse was extremely active in terms of its surface tension-lowering properties; however, when they attempted to sterilize it with gamma rays or by autoclaving, this crucial activity was lost. "We felt this was due to its high protein content," says Enhorning, who by this time understood, as did all researchers in the field, that surfactant was a complex mixture composed of 90 percent lipids and 10 percent proteins. "In an attempt to rid the material of these proteins, we extracted the surfactant lipids and resuspended them in saline solution, and the material we obtained could then be autoclaved and sterilized without it losing its surface activity," he explains.
However, unbeknownst to Enhorning and Possmayer at the time, a few tiny apoproteins slipped through and made it into their experimental material. It wasn't until the mid-1980s that scientists made the critical discovery that these apoproteins of pulmonary surfactant, which have since been named SP-B and SP-C, are essential for an immediate expression of surface activity.
"Possmayer and I extracted the phospholipids from the material. By doing that, we thought we would get rid of the proteins, which we felt might be dangerous and which interfered with our attempts to sterilize the material," says Enhorning. "We thought we had removed all the proteins but, serendipitously, we hadn't. Later we found out that about 2 percent of the extract was made up of proteins that had slipped by when we analyzed its properties."
Once Enhorning and Possmayer discovered how to produce their sterile, active substance, they wrote about it extensively in journal publications.
Coming Around to Goran Enhorning's Idea
"By the late 1970s, everyone had come around to Goran Enhorning's idea of 10 years earlier: that it probably is surfactant deficiency that causes RDS," Egan explains. "The obvious next step, then, was determining what kind of surfactant-replacement therapy you're going to give. Basically, you have two options—synthetic and natural."
Egan, himself, entered the field of surfactant research at about this time. In 1977 he moved to Buffalo, where he had accepted a joint appointment as chief of neonatology at Children's Hospital of Buffalo and professor of pediatrics and physiology at the University at Buffalo's School of Medicine and Biomedical Sciences.
"Ted Egan was a physiologist who had some world renown for his work in lung-water clearance," explains Holm, referring to the process in which, at birth, a baby absorbs the liquid that fills its lungs and establishes breathing. "And as a neonatologist and chief of neonatology at Children's, he obviously was interested in developments with surfactant therapy."
Once in Buffalo, Egan set up his lab, where he conducted ongoing studies on sheep related to his research. Soon he met Robert Notter, a scientist who earlier in his career had given up a faculty position in chemical engineering at Pennsylvania State University in order to go to medical school, which he felt would better prepare him to pursue a consuming interest he had in lung surfactant. After he completed medical school at the University of Rochester, he stayed on as a faculty member, dedicating himself to his research.
By 1980, Bob Notter had a synthetic mixture of surfactant that we both thought would work, and we decided that the best way to find out was to test it in my sheep," recalls Egan.
Egan and Notter were encouraged by a paper that had just been published in Cambridge, England, which reported that surfactant had been tested on babies with very good results. Based on the Cambridge study and others, they were acutely aware that groups around the world were hard at work in the ongoing race to develop their own surfactant products. They knew, for example, that Fujiwara had returned to Japan and was working there; that Clements was working in San Francisco; that Robertson had returned to Sweden, where he was continuing his research; that a group in San Diego was approaching the problem by extracting surfactant from amniotic fluids; and that Enhorning and Possmayer continued their work in Toronto.
It was with great anticipation, therefore, that Egan and Notter began their experiments in 1981. Notter had extensively tested his surfactant preparation in physical systems and had found it very promising. "We took this synthetic product and put it in preemie lambs that were surfactant deficient, and the results were disastrous," Egan recalls.
Frustrated with their lack of progress, Egan and Notter decided they needed to pull back and reassess their methodology because, as Notter pointed out, everything was looking good on his physical systems, so perhaps they needed to look at whether Egan's "experimental setup" was flawed. "In other words, he was saying to me, If we have good stuff, would we even recognize it," Egan says. Thinking there was only one sure way to determine this, the scientists decided they would put their synthetic mixture aside and instead test a dose of whole surfactant taken directly from the lungs of an animal.
"We were simply looking for a positive control," Egan says. However, what occurred that day in March of 1981, when they tested the new surfactant mixture, was something Egan says he will never forget.
"It was stunning. It was probably as exciting a lab event as I've ever participated in. Surfactant-deficient sheep are pretty doleful animals, let me tell you. But when we gave them the surfactant Bob provided, they were acting like mature fetal sheep getting ready to be born. It was fantastic."
But the biggest surprise was yet to come. "I thought what we had used was whole lung surfactant as we had planned," Egan says. "But when it worked so well, I said, 'This whole surfactant is great!'" It was at this point that Notter informed Egan that what they were testing was an extract he had prepared based on the published works of Enhorning and Possmayer, an extract that he had slightly modified to his own specifications.
"There's no doubt that Enhorning and Possmayer were much farther down the road with their natural extract in 1981 than we were with our synthetic product. Until we ran this test, Bob was primarily interested in a synthetic product. But once this new extract looked so good and once I found out that there was almost no protein in it, I thought, 'We're home,'" Egan recalls.
It was from this point onward that Egan and Notter abandoned their quest for a synthetic surfactant and focused their efforts on refining a natural extract.
Which Way to Go?
All the scientists working on surfactant worldwide had come to this difficult junction in their research. Obviously a synthetic product was attractive: It would be easier to mass-produce, would be available in limitless quantities, could be more easily controlled for quality and could be patented and sold as a brand-name product, something that was sure to attract the needed support of pharmaceutical companies.
Natural products, on the other hand, while holding exceptional promise, posed very formidable challenges. "In 1980 we knew that natural surfactant was about 10 percent proteins and that one of these proteins was very large. Like the proteins in your blood, it clots, coagulates and you can't sterilize it; it has all kinds of problems," Egan explains. "So we were faced with two issues: if we were going to develop a natural replacement product, it had to be one that wouldn't hurt the patient, yet was hardy."
In 1983, despite these complications, the Buffalo–Rochester team of Egan and Notter and the Toronto team of Enhorning and Possmayer had each begun small, prospective placebo-controlled trials of natural surfactant extract to prevent RDS in preemies—at last marking the start of full-fledged efforts on the part of the two groups to test the drug in babies. Two years later, both the Buffalo-Rochester group—now joined by clinicians Melinda Kwong and Donald Shapiro—and the Toronto group had completed larger randomized clinical trials, which they each reported on in the August 1985 issue of Pediatrics. Using what were similar extracts, they demonstrated that calf-lung surfactant extract did prevent lung disease in premature babies and could significantly reduce the severity of respiratory disease.
"After seeing the results of these clinical studies, all of which were so compelling for this particular material, Ted took it on as a crusade to go out and see that it became widely available," recounts Holm. "Early on, he had offered the calf-lung surfactant, pretty much free, to pharmaceutical companies, but they had already committed to marketing products developed by other groups. Also, another reason why they weren't interested in the material was that it had been reported on in professional journals to such an extent it was considered to be in the 'public domain,' so it couldn't be patented.
"So this really was the genesis of the idea 'Let's go out and make and market our own product.'" In hindsight, Holm adds, "Remember, these were academic physicians with no background in commercializing a drug, and so they were too naive to know that they couldn't go through the FDA process without any financial backing." What they did have, according to Holm, was "the best of intentions and a belief that what they were doing was for the greater good."
Determined to provide a parent company for his orphan drug—which has since been dubbed "Infasurf"—Egan founded ONY, Inc. (Ontario New York), in 1985 and set up offices in the Baird Research Center located near the University at Buffalo campus.
A Boost from Basic Research
While surfactant was entering its clinical-trial phase, other equally momentous developments were again taking place on the basic-science side of surfactant research.
Much of it centered on Bruce Holm, who in 1981 came to work in Notter's lab at the University of Rochester while pursing a doctorate in toxicology. Over the next seven years, Holm gained considerable recognition for a series of contributions he made to the field of surfactant.
In the mid-1980s, it was Holm and Jeffrey Whitsett, a researcher at the University of Cincinnati, who conducted a study that finally identified apoproteins as the mystery component in surfactant that enables it to be efficiently adsorbed by the lungs. In their paper, which was published in Pediatric Research in 1986, they were the first to show the functionality of the apoproteins SP-B and SP-C.
From the start, Holm was primarily interested in studying adult respiratory distress syndrome (ARDS) and its potential connection to surfactant. "No one had ever really wanted to study surfactant in adults," he explains. "Initial attempts to do so went nowhere because the dogma at the time was that surfactant deficiency was related to a quantitative deficiency—as in the case of premature babies—but not to a qualitative deficiency; therefore, the accepted belief was, 'It can't be part of the issue.'"
By the late 1980s Holm, who had admired Enhorning for many years, began to collaborate with the senior scientist and others on studies demonstrating a mechanism by which plasma proteins were shown to inhibit surfactant function. These findings, published in 1988 in the Journal of Applied Physiology, helped introduce the concept that surfactant-replacement therapy could be of benefit to a much wider range of lung conditions than just RDS.
"While we were off doing clinical studies, Holm was working with researchers throughout this area—in Buffalo, Rochester, Toronto and London, Ontario—to find out that you can inhibit lung surfactant, which was a brand new concept," explains Egan. "They were showing that surfactant plays a role in lung diseases, not just when it is missing, but when it becomes deactivated by things seeping into the lungs that don't belong there and which start tearing up the surfactant, making it terribly difficult for people to breathe. We began to see it as being similar to autoimmune diseases, where the body turns on itself."
In 1988 Holm also teamed up with Sadis Matalon, who was then a physiologist at the University at Buffalo, and others to publish a study that showed for the first time that high concentrations of oxygen can cause changes in Type II pneumocytes, the cells that produce surfactant.
"Obviously, this was really very important because we use oxygen as an essential therapy for treating lung diseases," explains Egan, who notes that, today, the 40-year-old Holm is recognized as "one of the world's leading experts on oxygen toxicity."
"Not only did Holm and Matalon document that oxygen can damage cells in the lungs that make surfactant, but they also showed that if you give an animal surfactant, it will speed its recovery, diminish the injury or even prevent it," he adds.
While studying oxygen toxicities, Holm also refined a technique for isolating the Type II pneumocytes. This was a very important development, as well, according to Enhorning, because "more and more, physiologists are studying disease at the cellular and molecular level."
Critical Mass Converges in Buffalo
As the years passed, it became increasingly clear that, philosophically, the Buffalo-Rochester group had much in common with the Toronto group and that, together, they stood apart from other groups worldwide. Most important, they shared the philosophy that both lipids and proteins must be included in surfactant preparations if they were to produce optimal results. Furthermore, they felt strongly that both SP-B and SP-C must be present because their research had shown that the two apoproteins work synergistically.
In contrast, in the late-1980s Clements's group in San Francisco, which had by then partnered with BurroughsWellcome, was developing a synthetic preparation called Exosurf that was composed primarily of DPPC and contained no protein. In turn, Fujiwara's group in Japan, which had partnered with Abbott Labs, was testing a patented product called Survanta, manufactured from a mince of whole cow lung, supplemented with synthetic phospholipids and neutral lipids, but containing only trace amounts of the SP-B apoprotein.
Given the long years of collaboration between the Buffalo-Rochester-Toronto researchers, it came as no surprise when Egan successfully recruited Enhorning to Buffalo in 1986, followed in 1988 by Holm, who came from the University of Rochester to complete a postdoctoral fellowship at UB, during which time he worked with Enhorning and others to continue his novel work on surfactant inhibition.
There's So Much at Stake
Once the randomized clinical trials were completed on Infasurf in 1985, Egan initiated the process whereby he hoped to win Food and Drug Administration (FDA) approval for the drug. Immediately, he was told by the FDA that in order for Infasurf to be considered for approval, controlled studies of it had to be completed. "This meant some of the babies would get surfactant and some of the babies would get nothing," recalls Egan. "So I said, 'I can't do that.'" Egan's appeals to the FDA to make an exception to their rule did not meet with success. As a result, he decided to delay controlled clinical trials until other surfactant drugs came on the market, at which time he could compare one surfactant to another.
In 1990, his wait ended when Exosurf was approved by the FDA and debuted as the first surfactant drug available in the U.S., followed closely by Survanta in 1991.
In the intervening years, while waiting for Exosurf to come on the market, Egan made Infasurf available to all babies in Buffalo who needed it, something he was able to do while Infasurf was classified as an "investigational new drug." This strategy was given a boost in 1989, when the FDA gave Egan's company, ONY, Inc., permission to charge for Infasurf so that costs for its development could begin to be recouped. However, the FDA gave the company permission to do this with the stipulation that it upgrade its manufacturing facilities to meet the requirements for a commercial venture. The only way to get the needed equipment in a timely manner was for the owners of the company to guarantee a loan, which Egan did personally after buying out the other owners.
"I was placed in a position where I felt we had developed something that was really a super therapy but which, because it wasn't a mainstream commercial venture, was about to be abandoned," Egan says. "I thought about my own motivation up to this point—why I went into this in the first place—and I felt it really didn't do any good to develop an optimal product and then watch it die." In 1989, therefore, Egan gave up his position as chief of neonatology at Children's Hospital of Buffalo and went to a part-time status at the hospital in order to fully devote his energies to ONY, Inc.
When Exosurf came on the market in 1991, Infasurf finally entered the clinical-trial phase for FDA approval, as studies were conducted in which the two drugs were compared. To facilitate this process, ONY, Inc. formed an alliance with Forrest Labs, which has its headquarters in New York City. With Forrest Labs providing the personnel and financial resources needed for this costly process, FDA trials of Infasurf were completed between 1991 and 1994, with all data submitted to the agency by 1995.
In 1995, when it looked like Infasurf would finally make it out the other end of the FDA pipeline, Egan's plans hit yet another snag and were ground to a halt. When the FDA approved Survanta in 1991, it designated it an "orphan drug" because it was determined to be the first pharmaceutical of its kind. "Being designated an 'orphan drug' by the FDA puts you in a category that gives you some tax breaks and provides you market exclusivity against similar or same drugs for seven years. It's like having a patent for that period of time. What happened in 1995 was the FDA decided that, under the orphan-drug rules, Infasurf was the same drug as Survanta. That doesn't mean that we are the same drug, like a generic drug, but just that we are a 'similar' drug," Egan explains.
The effect of this ruling, therefore, was that Infasurf had to stay off the market until 1998, since Survanta had made its debut in 1991. Despite repeated requests for the FDA to change its ruling, the decision held fast. Today, Egan simply says, "What it came down to with the FDA is that both drugs came from cows."
Holm is emphatic about the difference between Infasurf and the Survanta and Exosurf products. "In our opinion, and in the opinion of many scientists, the most effective surfactant drugs are those that contain the lipids as well as the two apoproteins B and C. Our studies have shown that these two proteins work synergistically and that, of the two, B is the most important. Exosurf contains no proteins, and in the Survanta preparation only minute amounts of the B protein are present, while Infasurf contains it in quantities normally found in healthy mammals."
To demonstrate what he calls "a night-and-day difference" between protein-based surfactant drugs and those containing no proteins, Holm points out that as soon as Survanta became available, "Exosurf rapidly lost its majority share of the market, which tells you what the clinicians using the two drugs are finding. We feel that Infasurf's inclusion of both apoproteins makes it a drug with notable differences when compared with Survanta and one that defines the 'next generation' in surfactant drugs."
On July 1, 1998, the exclusivity clause for Survanta expired, and Infasurf finally became an FDA-approved drug. What would have otherwise been a banner day in the history of Infasurf, however, was clouded by yet another obstacle. In 1994, Abbott Laboratories claimed Infasurf infringed on Survanta's patent, and hearings on the ensuing case began in June 1998.
Despite the ongoing legal battles (see sidebar "The Progress of Infasurf, below) Egan is convinced that as Infasurf becomes widely available to physicians working on the front line in neonatal intensive care units, it will win a significant share of the market through its own merit. "Physicians are looking for the best product," he says, "and any margin of improvement will be huge because there's so much at stake."
The Stage Has Been Set
Throughout the 1990s, scientists in the informal Buffalo-Rochester-Toronto research network have continued to pursue independent interests, as well as to collaborate with each other on groundbreaking studies that have helped define the leading edge of surfactant research worldwide. "We're looking at cell-directed therapies now," Holm says. "We know that surfactant can take care of many of the symptoms of lung disease and that it has reduced infant mortality related to RDS to 5 percent, down from a high of 70 percent in the 1960s. So now what we want to do is take a step back and ask ourselves, Can we stimulate the cells so you can never get the symptoms in the first place? That involves looking at what the mechanisms are for cellular function, and what we've discovered is that you can do pharmacological manipulations, particularly with oxidant stress, and you can prevent this damage from occurring in vitro and in vivo."
Citing a series of diverse investigations that build on surfactant research, Holm talks about studies ongoing at UB whereby researchers are hoping to find improved ways of treating ARDS, pulmonary dysplasia and hypoplastic lung from congenital diaphragmatic hernia. Referring to the latter condition, he says, "For example, we have shown that the blood-flow problem that exists there and the stiffness of the lung can be corrected by giving exogenous surfactant. But the lungs are still small, so we've been doing things directly to the Type II cells in this and other injuries. By tweaking those cells and putting mechanical stressors and growth factors in, lo and behold, we're finding we can grow the lung back to normal size in two weeks in vivo.
"So, we're branching out, and it's interesting because it's all growing out of surfactant," he adds. "It's this cell biology aspect that will take us to the next level. The philosophy shouldn't just be, 'Okay, we can keep them alive.' That, of course, is very important for the physicians, but, for a scientist, you always want to go one level farther; you want to see if you can prevent all of this from ever happening in the first place."
Enhorning couldn't agree more and has headed off on his own to again champion a controversial theory in which he contends that surfactant dysfunction contributes to symptoms of asthma. To assist in the elucidation of his new theory, he has again invented an apparatus, which he calls a capillary surfactometer. "I feel the capillary surfactometer is the most important work I have done; I think it has the most promise," he states matter-of-factly.
Egan is following Enhorning's new studies with great interest and says, "Goran has this fascinating, very innovative theory about asthma and, again, he's going against the tide, he's way out in left field. He's challenging conventional wisdom and almost nobody thinks he's right because he's saying that the reason why asthmatics have a tough time getting air is not because there is a spasm of the muscles of the airway and not because the airway is clogged with inflammation, but because they have surfactant dysfunction. And you better watch him, because he may be right again."
Fortunately, history may not repeat itself for Goran Enhorning. "Some people are looking at what Goran is saying and have approached us about doing some studies in asthma and respiratory syncytial virus," Holm reports.
"But, really, the big battle has been won, and that battle was getting enough evidence out there to finally convince the international medical community that surfactant-replacement therapy is a valid treatment for premature infants. That set the stage; now the science will continue to develop."
The Progress of Infasurf
In the courts and new clinical trials
When the Food and Drug Administration (FDA) approved Infasurf in July 1998, ONY, Inc., and Forrest Labs implemented a licensing agreement which stipulated that ONY, Inc., would manufacture Infasurf and Forrest Labs would market it under its label. Despite this progress, ONY Inc., still faced a legal challenge from Abbott Laboratories, which in 1994 claimed Infasurf infringed on the patents of its surfactant drug, Survanta. A trial was held in the summer of 1998 in the district court in Buffalo. "To be honest, Abbott is a 13-billion-dollar-a-year company and their attitude toward a multimillion dollar lawsuit is very different from that of a 20-employee embryonic company," says Edmund "Ted" Egan, MD, ONY's founder, president and chief executive officer, who is also a professor of pediatrics and physiology at the University at Buffalo School of Medicine and Biomedical Sciences. In September 1998, the jury in the case ruled in favor of Abbott Laboratories, but the final judgment has not been entered and appeals are expected to extend the legal dispute well into 2000. Commercial sales of Infasurf await resolution of the law suit, according to Egan.
Meanwhile, Infasurf continues to make impressive inroads in the science arena. In January 1999, Critical Care Medicine (Vol. 27, No 1) published a study led by Douglas F. Willson, MD, of Children's Medical Center of Charlottesville, Virginia, in which it was shown that pediatric patients who received the drug for a spectrum of respiratory disorders demonstrated rapid improvement in oxygenation and, on average, were extubated 32 percent sooner and spend 30 percent less time in the pediatric intensive care unit than control patients. "The success of surfactant replacement therapy in newborn infants with respiratory problems is well established now, so scientists are looking at its efficacy for children beyond the neonatal period," says Egan, who was a coauthor of the study. "While these findings are very encouraging, a larger, blinded, control trial is necessary, and this is something that's being planned before recommendations can be made for use of surfactant in pediatric patients with respiratory failure," he adds.
The following update to "The Surfactant Story" was originally published in the autumn 1999 issue of Buffalo Physician.
The Surfactant Story — an Update
Infasurf Goes to Market
The spring 1999 issue of Buffalo Physician featured a Special Report titled "The Surfactant Story," which chronicled pioneering contributions made to the field of surfactant therapy by University at Buffalo scientists and physicians over the past four decades.
Prominent among those profiled in the article was Edmund "Ted" Egan, MD, UB professor of pediatrics and physiology and president and chief operating officer of ONY, Inc., a company he founded in 1985 to manufacture and distribute Infasurf, an exogenous surfactant product that he and his colleagues had developed for the treatment of neonates with respiratory distress syndrome (RDS).
At the time that issue of Buffalo Physician went to press in May [1999], ONY, Inc., was unable to commercialize Infasurf due to a legal challenge from one of its competitors, Abbott Laboratories, which in 1994 claimed Infasurf infringed on the patents of its surfactant drug, Survanta. In September 1998, a jury in District Court in Buffalo ruled in favor of Abbott Laboratories, but a final judgment had not been entered.
On June 23, 1999, Judge Richard J. Arcara ruled that Abbott Laboratories failed to prove ONY, Inc., had infringed on its patent. The judge also issued an "estoppel," which prevents Abbott Laboratories from claiming infringement based on a principle-of-fairness doctrine.
"We're jubilant here," says Egan. "This is the culmination of a 14-year odyssey. That's how long we've been working on this project."
The decision will allow ONY, Inc., to proceed with manufacturing Infasurf at its facility in the Baird Research Park on Sweet Home Road in Amherst, New York. "We will also be able to hire more employees and to rehire employees who were laid off after the decision that came out last year," says Egan.
In addition to being used as a treatment for neonates with RDS, Infasurf is also currently being studied in clinical trials involving pediatric patients who receive the drug for a wide spectrum of respiratory disorders. In a study published in January 1999 in Critical Care Medicine (Vol. 27, No. 1), it was shown that these patients experienced rapid improvement in oxygenation and, on average, were extubated 32 percent sooner and spent 30 percent less time in the pediatric intensive care unit than control patients. As a result, larger, blinded, controlled studies are planned.